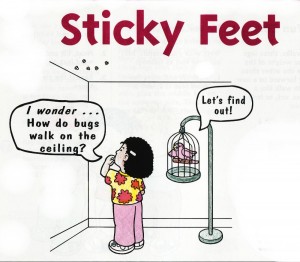 Water molecules attract each other. This is why a moist sponge will absorb more water than will a dry sponge.
The feet of flies are moist and when they touch a surface, such as a ceiling, some of this moisture sticks to the surface. Now the moisture on the ceiling attracts the moisture on the feet of the fly helping it to walk upside down on the ceiling.
The attraction of like molecules is called cohesion.
A moist piece of paper will stick to the bottom of a plate.
Discover for Yourself
1. Cut a

1-by-6-inch strip of paper (any scrap paper, such as newspaper will work).
2. Fold the paper strip in half lengthwise 2 times. Then, unfold the paper, then refold it accordion style as shown.
3. Fill a cup or small bowl with water.
4. Stick your finger into the bowl of water and moisten the bottom of the out side of the last folded section of the paper strip. This last section represents the end of the leg or "foot" of a bu

g.


5. Ask your helper to hold the saucer upright as you touch the wet paper to the saucer's bottom. Release the paper. The paper leg sticks to the saucer.
For more fun science activities, see Janice VanCleave's Big Book of Play and Find Out Science Projects.