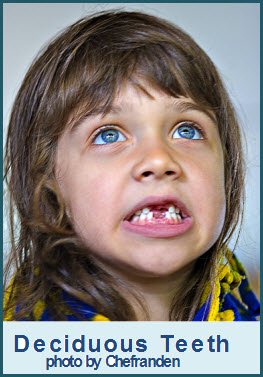 I learn something new every day. That's what makes reading stuff so interesting. My new discovery is deciduous teeth. I have used the term"deciduous" in respect to plants but don't remember seeing it used to describe "baby teeth." But, baby teeth to fall out after a time. Other names for baby teeth include,  milk teeth, temporary teeth and primary teeth.
Young children develop 20 baby teeth and they are more important than some think. Besides being important to chew food, the muscles of the jaw and the formation of the jaw bones depend on the baby teeth in order to maintain the proper space for permanent teeth. The roots of baby teeth provide an opening for the permanent teeth to erupt. A child's speech development also depends on the presence of their teeth.
Did you know that generally
lower teeth come in before upper teeth.
girls' teeth erupt earlier than those of boys. (much like with everything else).