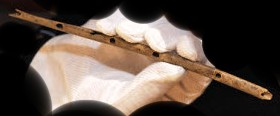 The flute shown, was excavated in September 2008 from a German cave. Archaeologist Nicholas Conrad, assembled the flute from 12 pieces of griffon vulture bone scattered in the cave.
Conrad says the 8.6-inch flute was crafted 35,000 years ago.
But is it really that old? Was it really used to play music? Did all of the 12 pieces of bone fit so neatly together?
I ask these questions only to remind you that just because you read something in the news, a magazine, a book or hear it from someone, you need to always do more research to determine if it is true. Even then, what we are discovering is that it may be true using the knowledge we currently have. In the future, as technology improves, things accepted today as true may be disproved or even better, confirmed as true.
One question that might be asked and confirmed by the video is:
Can a flute really be made from a bone?