Bug is a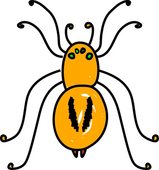 term that is often used to indicate any creepy crawler, including spiders and scorpions. With this broad definition of a bug, insects  might be considered a creepy crawler and thus be called a bug. But not all bugs are insects. You can distinguish insects from other bugs using the "3 by 3 rule," which means three pairs of legs and three body parts.  With on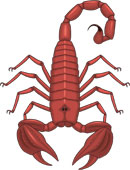 ly this rule, the cartoon spider correctly shows two body parts and eight legs. It can be a bug but not an insect.
The scorpion shown seems to have one main body and six parts to its tail. It also has eight legs–actually ten if you count the pincers. The scorpion also can be called a bug but it is not an insect.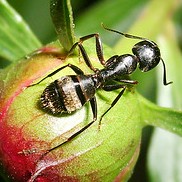 The ant (left) has three body parts: head, thorax, and abdomen. The ant also has three pairs of legs. While the photo doesn't clearly show this, all six legs are connected to the middle (thorax) body part. An ant is an insect.
For more information about bugs see BUG LEGS

You can find bug activities in Janice VanCleave's 204 Sticky, Glop
py, Wacky & Wonderful Experiments.
More Later,
Janice