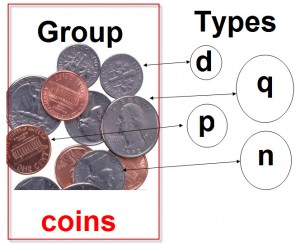 Classification
Classification is nothing more than grouping things.
The diagram shows a group of COINS.
In the group are different kinds of coins and each coin type is identified by a letter.
d = dime
n = nickel
p = penny
q = quarter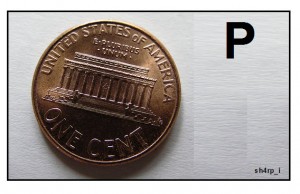 Activity:
Make Coin ID Cards
1. Use a picture of a coin, or secure a real coin to an index card.  For example, glue a penny to the card, and then print a large "P" on the card as shown.
2. Repeat step #1 for each coin used.
WAYS TO USE THE COIN CARDS
1. Identify the different types of coins.
Recognize the letter that each coin name starts with.
2. Divide a group of coins by types.
Lay the  coin ID cards on the table with the coin group, and then place all the pennies on the penny card, the nickles on the nickle card, and so on.
Count each type of coin.
Enrichment: Older kids can use a magnifying lens to study each individual type of coin and separate them using the differences between them. For example: In the group of coins at the top, there are three pennies. Each penny has some characteristic that makes it different from the other pennies, such as scratches, amount of tarnish, and coloring.