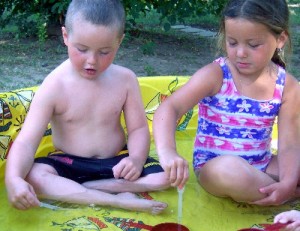 Notes from Janice's Desk
Kids love science and they generally figure out how to solve science problems on their own. In other words they use the problem solving process called the scientific method. Make it fun and interesting and even adults want to learn science. They might even sit in a wading pool as they play and find out about science.
The kids in the photo are learning how to use an eyedropper. I take no credit for this fun activity. it was designed by Kim, my granddaughter. Maybe I get a bit of credit since I've been teaching her the fun of science all her life.
I ask Kim to take pictures of her twins using an eyedropper. She turned a photo shoot into a summer playtime. Can you think of a better place to develop skills using an eyedropper than in a wading pool?
For more information about measuring, see VOLUME MEASURING.
More Later,
Janice VanCleave
For more ideas, see Janice VanCleave's Teaching the Fun of Science to Young Learners.