You can easily describe and/or calculate the density of substances if you understand that density is nothing more than a ratio comparing two quantities. The things being counted may vary but all densities are ratios that compare the quantity of a substance in a specific volume (or area).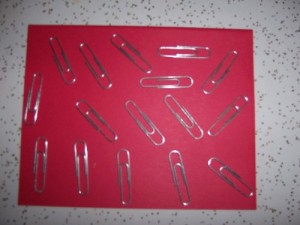 Densities  can be demonstrated using paperclips and index cards (or small equal size pieces of paper).
Discover for Yourself:
1. Place 16 paper clips on an index card. Spread the paperclips so that they are equally spaced from each other.
2. Repeat step one using a second card and 9 paperclips.
Questions:

1. Which card has a greater density of paperclips?
2. How could you write the density of paperclips for each card?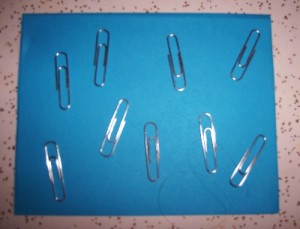 Answers: How to Find the Density of a Substance

Think!
1. Write the ratio comparing the number of paperclips to the area of the card. Ratio can be written as:
A: B or A/B
2. Let A = the number of paper clips; Let B = the area of the card
Note: Since the area of the cards are the same and you only want to compare the density instead of calculating a specific value for each, let area = 1 card.
4. Ratios for Red Card are: 16 paperclips: 1 card;   16 paperclips/1 card
5. Ratios for Blue Card are:  9 paper clips: 1 card;  9 paper clips/ 1 card
6. Which card has a larger ratio between paperclips and the card?
Answer: Red card has a larger ratio, thus a greater density of paperclips.
More Later, Janice
To understand the density formula as well as other science formulas, kids need an understanding math. For simple explanations about common math principles, see Janice VanCleave's Teaching the Fun of Math.