QUESTION: Can squirrels really fly?
ANSWER: Squirrels do not fly, but there is a type of squirrel that has special flaps of skin that extend from their front legs to their hind legs. When these squirrels leap from one tree branch to another, their skin is stretched out like sails to help the squirrel glide through the air. Squirrels that can glide are found in the forests of North America, Europe, Asia, and Africa.
For Science Standards relating to the paper airplane as well as specifics about flying squirrels, see All About Flying Squirrels.
DISCOVER FOR YOURSELF
Flying squirrels glide through the air much like paper airplanes do. Make a model of a flying (gliding) squirrel using a sheet of copy paper. Fold the paper in half lengthwise twice, then unfold the paper.


Fold the paper so that the top corners of the paper meet at the center fold line B. The point  at the end of fold line B will be called point D. Turn the paper over and refold along fold line B. Lay the paper on the table so that fold line B is to the right.
Fold point D down so that it meets fold line A. Refold only the faceup side of the paper along fold A. With a pen, draw a flying squirrel on the paper as shown. Color the squirrel.
Attach a paper clip to the underside as shown. Then thrown the paper as you would  paper airplane. Watch the  paper with the squirrel drawn on it glide through the air.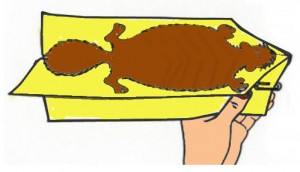 You can find more information about animals in these Janice VanCleave Books: