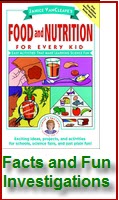 Notes from Janice's Desk
I am able to control my diabetes with diet. Basically this means that if food tastes good I should spit it out. Nothing made with sucrose (table sugar) , that covers everything that I like–cake, cookies, chocolate candy, chocolate candy and did I say chocolate candy? I have to limit the amount of fruit I eat because it contains another type of sugar called fructose.
I read an article that fructose is being linked to a disease called gout. Guess I need to spit out any fruit so I don't get gout, which is a type of arthritis.
The article is a good example of deductive reasoning, which is basically an "if and then" type of reasoning. The if part contains several conditions. The then part is the one conclusion. For example:
Fructose is the only carbohydrate linked to gout.
Soft drinks are sweetened with fructose
Since 1995 there has been a dramatic increase in the number of people with gout
Since 1995 there has been a dramatic increase in the consumption of soft drinks sweetened with fructose.
From this information, scientists conclude that drinking soft drinks with fructose causes gout.
For the complete report, see   GOUT.
What is gout? See GOUT:CAUSES AND EFFECTS

More Later,
Janice