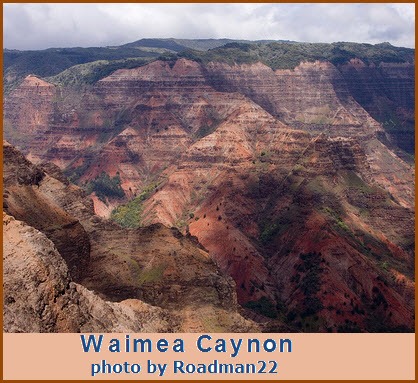 Notes from Janice's Desk
My visit to Kauai, one of the Hawaiian islands, was awesome. Like all the Hawaiian islands, there was too much to see in just one visit. A helicopter ride over the island gave me a bird's eye view of the beautiful sites from the lush tropical forests that cover Mount Waialeale, the wettest spot on earth, to the white sandy beaches and even a canyon that it rightly called the Grand Canyon of the Pacific. Standing on the rim of Waimea Canyon reminded me of the majesty of the Grand Canyon in Arizona.
With all the vast varieties of biomes in Kauai, it is no wonder that it has been the setting for many movies, including Blue Hawaii with Elvis Presley, Jurassic  Park, South Pacific, and Raiders of the Lost Ark.
More Later,
Janice
For information about the Oceans Book, Click HERE.