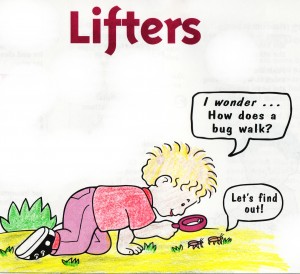 Lifters: I Wonder…How Does a Bug Walk?
As a bug walks, three legs support the weight of the body while the other three legs swing forward to a new position. To walk like a grasshopper, ant, or  ladybug try  this:ig.
With two friends, you can model how insects walk.
Discover for Yourself
* Adult step Write the numbers 1 through 6 on labels. Place the labels on the children's shoes as shown.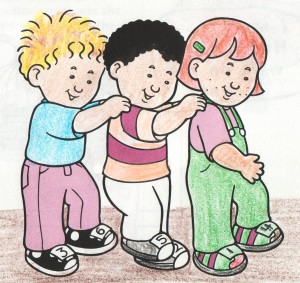 * Form a line with two friends, one behind the other. Place your hands on each others shoulders.
* Adult step Instruct the children to walk using the feet that you tell them to lift.
1. First lift and move forward feet 1, 3 and 5.
2. Next, lift and move forward feet 2, 4 and 6.
3. Repeat the steps several times.
More Later, Janice
For more fun see, Janice's Teaching the Fun of Science to YOung Learners