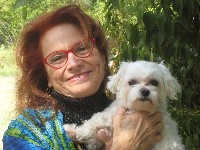 Notes from Janice's Desk
I recently discovered that I am fast becoming illiterate. I don't have a disease. So how can one who has been literate from an very early age become illiterate in what seemed to be overnight? It started with a low pecking sound that just got louder and louder until now the sound is deafening. The increase in decibels match my rapid loss of literacy.
As a writer, communication is my life. Losing this skill is more than a little disturbing. Before sinking too low it occurred to me that I had other skills that had not been pecked away, or so I thought.  Isn't art a universal language? And of course there is math. While I have lots of room for improvement, I could play and have fun with art and I love math. But alas, the pecking sound that took over language has spread so that even my crayons qre tagged with codes that make no sense.  As to math, I've discovered that is the culprit behind all the pecking.
Literacy is no longer defined as being able to use the letters of the alphabet to read and write. Instead, one has to be able to read and write the media forms of the day. YIKES!!! This includes all the web stuff that I've put in a file to read later–how to create websites, digital movies, slide shows, and all kinds of stuff that made my brain tired just thinking about it. Never the less–I had to either jumped on the speeding technology train or stand at the station waving goodbye to my writing career.
I purchased a book to learn about one of the new languages–HTML. I read every word, then decided that for me there has to be a better way. Bill Gates and others like him love creating new languages, but to make $$ they have to produce products that computer illiterates like me can understand. I say this, but the truth is that computer Geeks don't have a clue how to create tutorials for me and others that don't speak their language. But the tutorials they produce are improving as they add pictures for each step. The first thing I look for is a phone number so I can speak to a real live person. I can call and immediately confess that I am illiterate so they will go slow. If there are too many steps to the explanation, I try to digest one part at a time and then call back again and again until I really understand.  They don't know who I am because I am listed as some code name in their records. Or at least they never call me by name. Plus, a different person answers my call each time so they don't know how illiterate I am.
As to the tutorials provided by different products. For me this is so time consuming because I have to stop and Google so many words.  After a bit of research I progress to step 2 of the instructions. Often I get frustrated and decide to do something more productive–like washing the breakfast dishes. At least I can still accomplish that. I also have my sweet puppy who loves me just the way I am. She doesn't care if I am illiterate as long as I keep giving her the treats she enjoys.
But, I am not a quitter and no matter how long it takes me, I will learn to create slides, videos, as well as add all the other bells and whistles to this web site. I've may even write instruction booklets that I can understand. I've started with a new type of website called a wiki– I even took a wiki course this summer–almost quit the first day because I got scared, but was encouraged to continue and am glad I did. Check out JANICE'S FUNOLOGY WIKI.
More Later,
Janice