Water Walker
Some lightweight bugs can walk on water because
of surface tension, which means the surface of water acts like it has a thin skin on it. This happens because of the attraction that water molecules have for each other.
A bug model that can stand on water can be made with cardboard and craft stems.
DISCOVER FOR YOURSELF
1. Adult Step Cut a 2-inch by 1/2 -inch (5-cm by 1.25-cm) strip from a piece of corrugated cardboard. Make sure the grooves in the cardboard run across the strip as shown.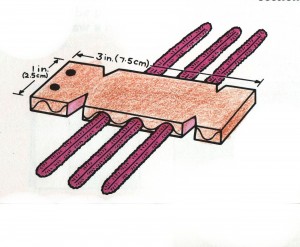 2. Adult Step Cut 3 3-inch (7.5-cm) long pieces of cotton terry craft stems. NOTE: It is important that you use the cotton terry stems.
3. Use a marker to draw eyes on the head end  as shown.
4. Stick each piece of stem all the way through three grooves in the cardboard in the second section of the bug's body so that the same amount of stem sticks out on either side. Put one stem at each end of the section and one in the center. The stems will be the legs of the bug.
4. Bend each leg down where it meets the bug's body. Then, bend about 1/4 inch (0.6 cm) of the end of each leg out to form a foot. Stand the bug on a table and adjust the bends in the legs so that each foot touches the table.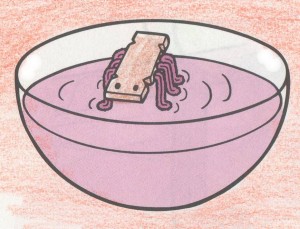 5. Fill a bowl about three-fourths full with water.
6. Slowly lower the bug until its feet touch the surface of the water. Then, release it. The bug will stand on the water's surface.