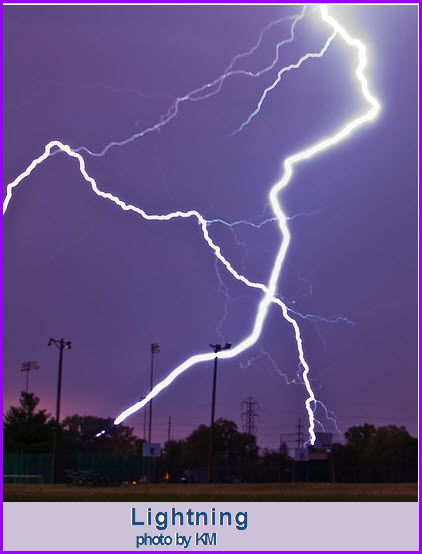 Notes from Janice's Desk
Lightning is so awesome, beautiful, but very dangerous. Each year lightning does more damage to property as well as injuries than hurricanes, floods and tornadoes combined.
For more awesome photos of lightning, see   EXTREME INSTABILITY
For a fun activity, see LIGHTNING
If your thinking about doing a science project, you might check out some of the ideas in my weather book. I want to always remind you that any science project book is a tool that you use to help you design your own creation. The experiments and ideas in the weather book or in any of my books are guides –not steps to follow to clone the experiment. After all, you want to stand proudly by the project that you designed and developed yourself.

* Why does it rain?
* What causes thunder and lightning?
* How does a cloud form?
This books includes 20 fun and simple experiments that allow you to discover the answers to these and other fascinating questions about weather, plus dozens of additional suggestions for developing your own science fair projects. Learn what causes lightning with a simple experiment using a roll of tape in a darkened room. Make a barometer from a soda bottle, straws, modeling clay, and colored water. Use a shoe box, plastic wrap, and some soil to understand the greenhouse effect. All experiments use inexpensive household materials and involve a minimum of preparation and cleanup.
More Later,
Janice