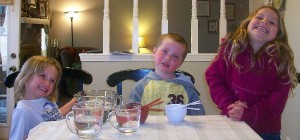 Notes from Janice's Desk
Most of my books use measuring tools that you have at home. This is purposely done to encourage more science discovery.
I am not minimizing the importance of learning to use science equipment. My thought is that by mastering measuring skills using familiar measuring instruments, kids will be more successful in using science instruments.
Because I am so accident prone, when possible I use plastic measuring tools–even in the kitchen. Whether you use plastic or glass will be your own decision.
The children in the picture have a potpourri of measuring tools–plastic  as well as glass. While they have used these instruments before, today they are learning how to measure specific amounts. First they pose for a picture so their granny (me) can use it on her website. As you can see, the girls can always smile for a photo shoot, but Tyler wants to start doing something. For more information about measuring, see

More Later,
Janice