I love driving around in Colorado. It is such a beautiful state. One summer during our drive we heard a very loud pop. It didn't sound like a blown tire and I still had control of the car. So what blew up.  I stopped the car and my husband checked all the tires. No problem there.  Further investigation revealed that a sack of potato chips, which had been purchased in Texas, had exploded.
Question: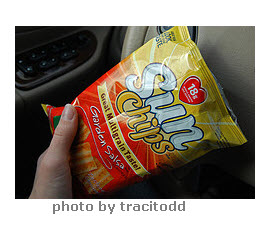 What caused the potato chip bag to explode?
Answer:
It was summer and maybe the bag had gotten hot. This would have caused the gas inside the bag to expand. NO! This was not the answer because we had the air conditioner on and had been driving north toward Denver for several hours. Denver is called the mile high city because it is at an elevation of about 1 mile above sea level.
Something had caused the gas inside the bag to expand. How about changes in air pressure? For more information, see AIR PRESSURE