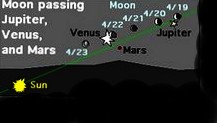 I found a great astronomy site, THE CURIOUS SKY WATCHER. The diagram shown is from this site. For more information about the position of the celestial bodies described on this page, check out this site.
The Sun, Moon, and planets appear to be in a never ending race from east to west across the southern sky. They are not in fixed positions like the animals on a merry-go-round. Instead, there seems to be changes in the position between some of them, particularly with the Sun and Moon. If you are an early riser, you can get a good view of Jupiter and Venus as they appear to race past the Moon. Well, that is a bit of an exaggeration– it takes about four days for these two planets to be in different positions so that the Moon seems to have been passed up.  A brief description of the Moon's position in relation with Jupiter and Venus at about 6 am is described for the next four days. Look toward the southeast each morning. Note that you need to make observations before the Sun rises above the horizon.
April 19,2009

The crescent Moon is next to Jupiter.

April 20-21, 2009

The crescent Moon seems to be getting behind in the race. Jupiter appears to have passed it and Venus is gaining on it.Notice each morning the changes in the Moon's lighted crescent shape. It gets smaller each day.

April 22, 2009

The Moon is now next to Venus. Venus looks like a very bright star.

April 23, 2009

The Moon is closer to the eastern horizon and its lighted crescent shape is even thinner. Mars is shown in the diagram, but it is very dim and difficult to see.

ARE THE PLANETS MOVING AHEAD OF THE MOON IN WHAT SEEMS TO BE A RACE ACROSS THE SKY? THE ANSWER IS A BIG NO!
Actually, the planets (including Earth) are moving in their own orbit around the Sun while the Moon moves in its orbit around Earth. The planets are so far from Earth that they appear to move very slowly and follow the same path across the sky as  does the Moon. This path is called the ecliptic and during the day, the Sun follows this same path. The difference is that while the Sun and planets appear to be moving from east to west because the Earth is rotating toward the east. The Moon is actually moving from west to east.
CONFUSED??? I agree that it is difficult to visualize all this motion. But, it is FUN! and EXCITING! to look for and identify different celestial bodies. We will study the movement of  celestial bodies –one at a time. If celestial body motion is not listed in the index, check back soon. I am adding new material every day. You can also send your questions to me at:
ASK VANCLEAVE@aol.com