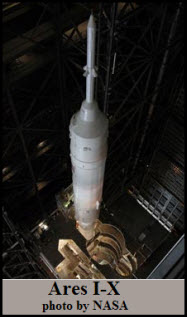 Ares I-X is targeted to roll out of the Vehicle Assembly Building tomorrow. The move is to start at 12:01 a.m. EDT. The 4.2-mile journey is expected to last about seven hours.
The test of Ares I-X was originally scheduled for today, but on Oct. 14, engineers detected a nitrogen gas leak. Hopefully the one day delay will not affect the target Oct. 27, 2009 launch date.
Ares I-X is NASA's next-generation spacecraft and launch vehicle system, which will bring NASA one step closer to its exploration goals:
to return to the moon for more ambitious exploration of the lunar surface
to travel to Mars and destinations beyond.
The flight test tomorrow will provide NASA with information about problems with the craft if any. For information about the construction of the craft and need for the test flight, see
Constellation Flight Tests Mini Feature: Ares I-X
Launch Vehicle: Ares I-X
Targeted Launch Date: Oct. 27
Launch Window: 8 a.m. – 12 p.m. EDT
Launch Pad: 39B
Launch Site: Kennedy Space Center, Fla.