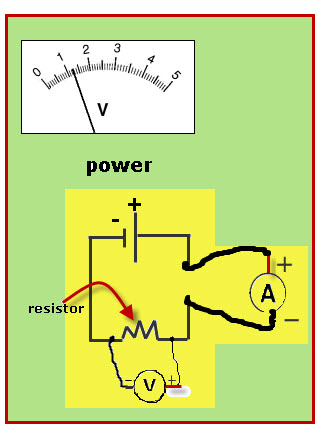 How to measure voltage and current.
It doesn't matter where you break the circuit to connect the ammeter. It does matter where you connect the voltmeter. REMEMBER: The voltmeter must be connected across the circuit.
Part One
Objective: To compare the voltage and current of a series circuit when the resistance is constant.
Note: Ohm's Law states that the voltage is directly related to the current. So, your results should confirm this. Remember that Ohm's Law is:
V = I x R;  Voltage of a circuit equals current times resistance.
What To Do
Your will first create a series circuit with a power source, ammeter, and resistor. The schematic indicates how and where the different parts are to be.
Do not expect your wires to form nice straight lines.   Instead it will most likely look like the diagram below–or worse.
An adult should check your set up before you begin the investigation. IMPORTANT!
Record th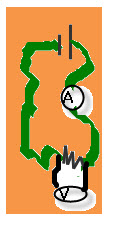 e ohms for the resistor that you have in your circuit. Your instructor told you that this resistor will be 1,000 ohms.
1. Turn the power supply to 1 volt. Read the voltmeter connected across the resister. (It should read 1 volt, but because of many factors–resistance of the wire, connections, meters, etc,,,,the voltage many be a little more or less than 1 volt.) 
FYI: I have recorded the voltage of the power supply in the chart shown below, but again, your meter may give you a different reading. My chart is an example of the readings on the meters if everything is 100% and all the resistance in the wires and meters is zero.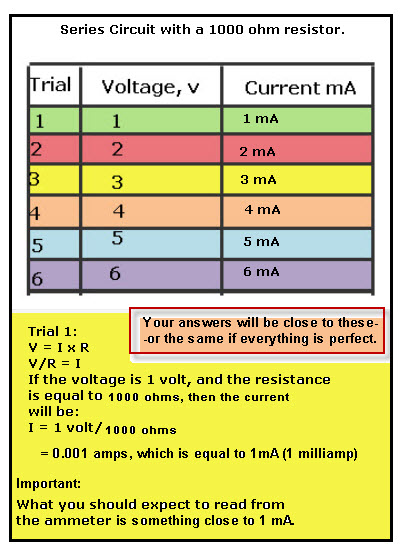 2. Read the ammeter and record it in the chart. Note that you want to make sure that you are reading from the mA scale as your teacher instructed.
3. Repeat for trials 2 through 6.
4. Show Slope Calculations.
5. Show percentage error—
The calculations for my table will give 0% error, this is because I used the voltage from the power supply and calculated the amps for a perfect system. It is an example for you. It gives you a general idea of what your current ammeter should read.
What is the relation between voltage and current, when the resistance is constant?
The measurements from this lab show that voltage and current are directly related. As one increases the other increases.