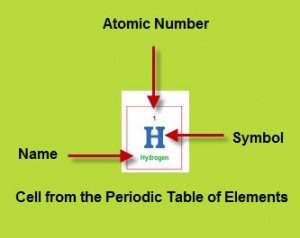 Notes from Janice's Desk
I wish kids learned about the periodic table in elementary school. It would make science so much easier for them. With this thought in mind, I am going to write a few lessons about the periodic table.
First of all, the periodic table is a chart of the chemical elements arranged in columns and rows according to the increasing atomic number of the elements. There are 18 groups (columns) and the elements in each group have similar properties.
The rows and groups create boxes, which I will refer to as cells. Within each cell is information about one specific element. The diagram show the Hydrogen cell. The cell has three things:
1. Element's name: Hydrogen
2. Element's Symbol: H
3. Element's Atomic Number= 1
Some periodic tables list more information about each element. For now, I would like to concentrate on these three parts: name, symbol, and atomic number.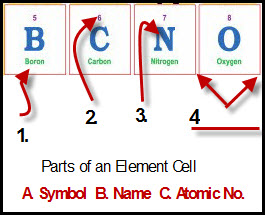 Activity
The diagram shows four different element cells. Arrows 1, 2, and 3 point to specific parts of three different cells. At the bottom of the diagram are the names of the three cell parts.
1-3. Identify the parts each arrow points to by matching the letters A, B, and C with the arrow numbers.

4. Identify the three parts in this box.


The original table was designed by Dmitri I. Mendeleev and was later revised by Henry G. J. Moseley. See PERIODIC HISTORY for more information.
More Later, Janice