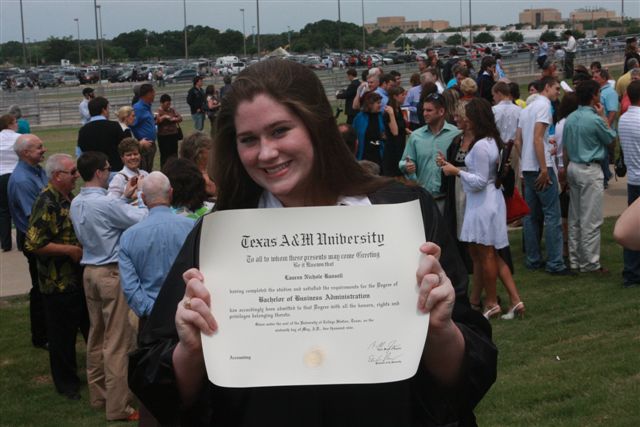 I want to share a special picture with you. The smiley graduate is my granddaughter, Lauren.

Getting a degree from Texas A & M is definitely something to be proud of. One would think that attending the graduation ceremony would be easy, but then we are talking about Lauren, my granddaughter. But no matter how big the obstacle, Lauren can find a fast solution.

So what obstacle was preventing her from being part of her class's graduation ceremony? She had her cap, tassel, and gown inside her apartment.  The problem was that Lauren was outside the apartment with no key for the locked door. There was no one available that had a key. To make matters worse, her apartment was on the second floor. Maybe she had left the window or balcony door unlocked. But how could she get on the 2nd floor balcony?Thankfully she was not alone. In fact, her mom, dad, younger sister and husband were all there to witness the event. No, hubby didn't have his key either.

Now was the time to apply some of that physics knowledge. How could they move someone up to the 2nd floor balcony? No Problem!!! Dad being the tallest member of the group at 6'5″ would lift Lacey, the lightest member. This was a major sacrifice for Lacey, but being assured that no one she knew would she her acrobatic act, she hiked up her long skirt and stood on her dad's shoulders. This was the picture that I would like to have. My suggestion of a reenactment for picture taking was met with a confirming NO!

Using some of her past gymnastic and ballet training taught by older sister Lauren, Lacey swung over the balcony rail only to find the door and window locked.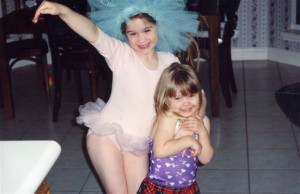 While no one in the group has been trained in "cat burglary,"  they all are avid fans of the TV series 24. So what would Jack Bauer do? Break the window! Of course Jack would have used his elbow, but it was decided that Lacey should be more cautious. A brick was tossed to Lacey —not sure where this came from–off the building?? —The instructions were for Lacey to stand with her back against the building and with the brick in her extended arm, she was to hit the window with the brick. The first try resulted in the brick bouncing off the window. This never happens to Jack Bauer! But, Lacey's second and more forceful attempt broke the window–Lacey was able to safely reach through the broken window and unlock the balcony door. YEA!!!! Lacey was the hero of the day!!!