Paper makes up a large percent of the waste in landfills in the United States. Recycling paper is one way to reduce the amount of trash in landfills. Recycled paper also takes less energy and uses less water to produce because most of the energy and water in paper making is used to change wood into pulp. Paper can only be recycled 4-6 times. This is because with each recycling, the fibers get shorter and weaker. Some new pulp must be mixed with the recycled fibers to maintain the strength and quality of the fiber.
I have found another way to recycle paper. In fact, my method indirectly turns used paper back into trees. I must admit that the process might be a bit timely, but it works. So what is this recycling process? Garbage recyclers–Earthworms. I now have a mini-compost tub with wet paper and left over food scraps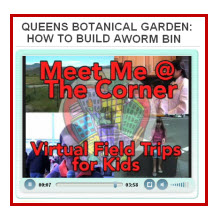 and red wiggler earthworms in it.
My new pets are eating my garbage as I type. I am just starting this project and will keep you updated about my progress. I'll be working on fun activities that include my new pets.
I got interested in a worm bin after seeing the Meet Me @ the Corner video. Check it out. Even if you are not ready to start your own worm bin, it is a very interesting video.