Notes from Janice's Desk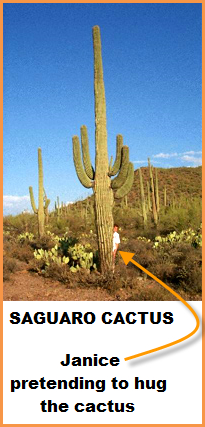 One attraction in Arizona that I always visit are the saguaro cactus. These giant plants are found only in the Sonoran Desert of extreme southeastern California, southern Arizona and adjoining northwestern Mexico. In the Saguaro National Park near Tucson, there are so many cacti that it looks like a forest. But instead of trees, the forest contains saguaro from 15 to 50 feet tall. The average height of the plant is about 30 feet. Their thick, fluted, columnar stem are about 18 to 24 inches in diameter, and most have several branches that look like arms curving upward. At night the silhouette of these plants looks like an army of giant people marching across the land.
For more information about saguaro cacti, see SONORAN DESERT.
More Later,
Janice