Notes from Janice's Desk
There are about 500 billion plastic bags produced a year worldwide and it takes up to 1,000 years for some of them to decompose.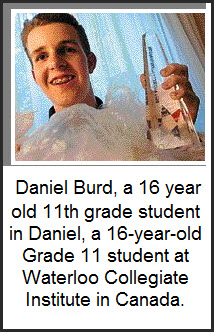 Daniel Burd discovered a way to make the plastic bags decompose in about 3 months. His idea was considered valid and he won many awards, including a $10,000 prize, a $20,000 scholarship, and recognition that he has found a practical way to help the environment.

Daniel's idea was presented in May 2008. I discovered it because I search the web looking for information about kids and the ideas they have for winning science projects.  "Green" is the buzz word for 2009. So, what happened to Daniel's idea? Can it not be adapted on a large scale? These are questions that I cannot find answers to. But my point in telling you about Daniel is to let you know that the solution to many environmental problems, can be solved by kids. So what are you waiting for? It is never to early to start thinking about science fair projects.  Who knows, you may be the one that discovers a revolutionary technique for some environmental problem.
For specifics about Daniel's project, see WCI student isolates microbe that lunches on plastic bags
For clues about developing a science fair project, see SCIENTIFIC METHOD
More Later,
Janice