Notes from Janice's Desk
I started writing in 1983. YIKES! I guess that makes me at least as old as dirt! At that time, there were few hands-on experiment books and most of those in print were for high school.
While I was science savvy, my writing skills were lacking.I didn't know just how lacking my writing skills were until I my manuscript was copy edited. The publisher must have hired a team to make all the corrections. The marked pages looked like a flock of birds had walked through puddles of varied colored paint before dancing on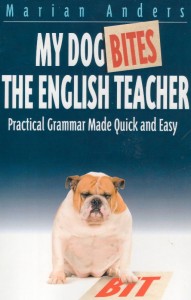 the pages.After about the 30th manuscript, the pages began to look better. Yes, I had grammar books but I just didn't seem to be able to apply the info.
Recently, I was asked to review  Marian Anders' book, "My Dog Bites the English Teacher: Practical Grammar Made Quick and Easy." My first thought was that some past copy editor was playing a joke on me. But, not so. The first two chapters are really great. Marian has some tricks that really work. With Marian's permission, I will use some of her grammar tricks to teach a science topic. This will be different, but I love challenges. See, Saguaro for tips on identifying verbs.
Hopefully I will make fewer grammar mistakes on this website. But remember, I was born 51 days after Japan bombed Pearl Harbor. Age is my excuse for grammar errors.
More Later, Janice