Science has a magical appeal for children. While they are entertained by science demonstrations, nothing is as captivating as something they can do themselves.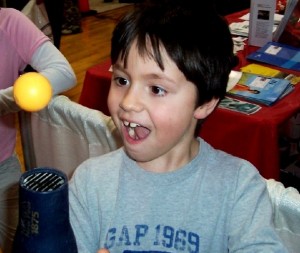 The young man in the picture attended a GRANDMA SCIENCE PRESENTATION. As part of the program the boy was asked to hold a hairdryer so that the air blew upward.  He held a  hollow. rubber ball in the stream of air, and then released the ball. The photo captured his surprise that the ball floated above the hairdryer.
Note: The hairdryer was set on cool.
The best TEACHING TIP I have for educators, parents, or guardians is to support and encourage a child's  inborn gift of curiosity. One way is to explore the fun of science TOGETHER.
DISCOVERING TOGETHER
Each of the following questions has an independent variable that you change in order to determine what kind, if any, change occurs in a dependent variable.
1. How does the speed of the air from the hairdryer affect the height of the floating ball?
2. How does the speed of the air from the hairdryer affect the weight that will float?
3. How does the weight of the ball affect its height above the hairdryer?
Lifting Coin explains the Bernoulli Principle, which is why the coin and ball are lifted.