Set UP: Secure a string between two stationary objects. You want the string to be as long as needed for your audience to observe it. Clip paper cli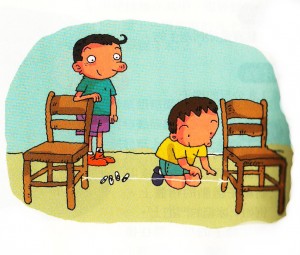 ps to the string so that they can freely spin around the string. The number of paper clips is up to you. You might try some of the colored paper clips just for fun.
Pluck the string and and observe the motion of the paper clips. Experiment with the position of the paper clips. You want to be able to place some of the paper clips on the string where they will spin while others remain relatively stationary. You might mark the string in a way that you identify. Know that the length of the string, how tight it is stretched as well as how hard you pluck the string affects the waves produced.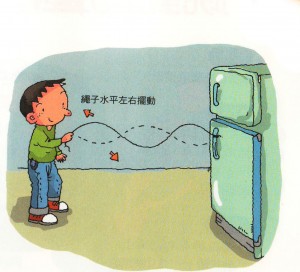 So What's the Science Behind this Magic?
You can produce a standing wave by securing a 6 foot (1.8 m) rope or thick cord to a stationary object. You can produce up and down waves by moving your hand up and down. You can also produce horizontal waves by moving your hand back and forth.Your hand movement vibrates the rope and produces waves. Each back-and-forth motion of your hand produces one wave. When the wave reaches the tied end of the rope, the wave is reflected back. If you continue to produce waves, there will be waves moving in both directions along the rope. If the rope is moved at the right speed, the waves combine forming a pattern such as the one shown. The rope appears to be vibration in segments.