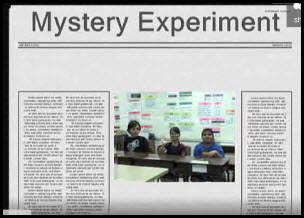 I received the most amazing complement this week from a teacher friend, Mrs. Shanahan, and her 5th grade students. It came in the form of a video which the class video-taped and edited themselves.
The video starts with one student's introduction stating that their friend Janice VanCleave gave them instructions for a mystery experiment. At the end of the video the entire class thanks me for the information.
Between the introduction and closing of the video is an extraordinary example of student achievement. I am honored by their work and pleased to be considered their friend.
DON'T MISS THIS: It is an absolutely must see video shown here:    THE MAGIC BOTTLE.