Notes from Janice's Desk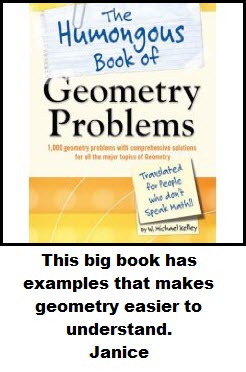 The scientific method needs to be changed to "Problem Solving Method."  I have been evaluating different kinds of books lately and whether its grammar or geometry, the same basic problem solving steps are used and they match the steps for the scientific method. For example, in Kelly's geometry problem book, there is a section on conditional statements, which he calls "if-then statements."  This idea can be expanded to include every curriculum that I can think of. For example:
Geometry– If p, then q.
Art–If you add white paint, then the mixture is lighter.
Science: If the light is increased, then the plant grows faster.
Kelly takes the if-then statement further. He calls the conditional part, "if"  the hypothesis and the resulting part, "then" the conclusion.
Kelly even adds a science related if-then statement, which is:
If the organism is a tiger shark, then it is a carnivore. WOW!!! I am in love with this author–
For more information about geometry see WHAT'S THE ANGLE.
More Later,
Janice