Sedimentary rock are layers of sediments cemented together.The basic steps of this process are:

Deposition of sediment. The transfer of sediments (soil particles) from one place to another causing layers after layer to form.

Compaction of sediment. The squeezing together of sediments.

Cementing sediment. The gluing together of sediments.
During compaction the air and water is squeezed out of the spaces between the particles, but some substances that had been dissolved in the water may be left behind. These substances form a thin layer around the particles and bind them together.
Corrugated cardboard can be used to demonstrate the cementation process needed to form sedimentary rock.
Discover for Yourself.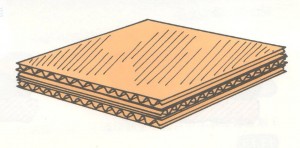 Squeeze a zig-zag pattern of glue over the surface of a 4-inch (10-cm) square pieces of corrugated cardboard.

Place a second equal-size piece of cardboard over the glue-covered surface of the first. Turn the top piece so that the tunnels running through the cardboard are perpendicular to the tunnels in the other cardboard piece.

Use the same procedure to glue a third equal-size piece of cardboard on top.

Allow the glue to dry.
Summary: The cardboard pieces represent layers of sediments and the glue represents the minerals in water that cement the sediments together.
For more information about the formation of rocks, see Janice VanCleave's Rocks and Minerals.