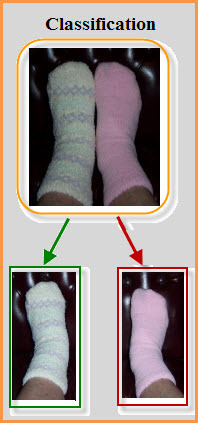 My feet get very cold, and I wear warm socks most of the time. Yesterday, I managed to put on two different socks. Since my office is in my home, I didn't care if the socks matched. But, later in the day my husband needed me to attend a business meeting with him. YEP! I went wearing the miss-matched socks. Thankfully I wore slacks and we sat at a table. But my mind kept returning to my socks. No, I was concerned about the fashion statement I was making. Instead, my sock combination made me think of all the socks I had in a box that didn't have mates. UMM! I could start a new fashion trend, but a better idea was to use them for a fun science classification activity.
In the diagram, you see the mix-matched socks together. They do have similarities, such as:
size
texture
material
The main difference between the two socks is color. So, using only the two socks, I have two separate categories. But what if you start with a large mixture of socks? The classification groups would increase.