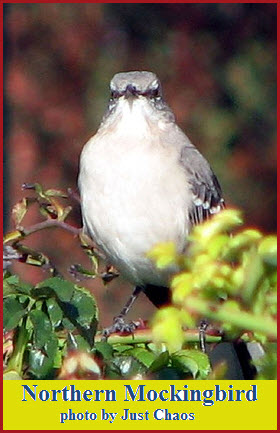 Birds, such as the mockingbird (left)  are born with the ability to sing, but they must learn the songs of their species.
If a baby bird is isolated from other birds of its species, it can instinctively sing simple songs, but not the more complex songs of its species. These it must hear and learn.
Most birds can only sing the songs of their species, but there are exceptions.
The mockingbird seems to be the best at imitating the songs of other birds, and captive parrots and mynahs can even imitate human speech and other sounds.
Birds have an organ called the syrinx in their windpipe that enables them to create sounds.
The number of muscles around a bird's syrinx determines the variety of sounds that it can produce. In general, the more muscles surrounding its syrinx, the wider the variety of notes a bird can sing.
The syrinx is located where the windpipe divides into 2 tubes, one going to each lung. This allows birds to sing 2 different notes at the same time.
To control pitch (high and low sounds), the bird contracts the muscles around its syrinx to change its shape. This causes the membranes to vibrate faster for high pitches or slower for low pitches. The next time you hear a bird sing, pause for a moment to marvel at this complex exercise in learning and muscle control.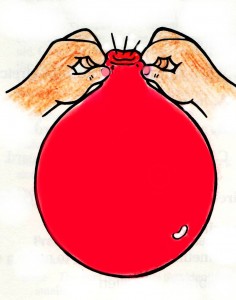 A balloon can be used to model how a birds changes the pitch of its song.
Discover for Yourself
1. Inflate a balloon.
2. Hold the neck of the balloon between the first fingers and thumbs of both hands.
3. Slowly stretch the neck of the balloon sideways to form a narrow opening that lets the air out slowly. Listen to the sound produced.
4. Stretch the neck of the balloon more or less to produce different sounds.
What's Happening?
The balloon made different sounds when you changed the shape of its neck. In a similar way, a bird's syrinx produces different sounds when the bird changes its shape by contracting the muscles surrounding it.