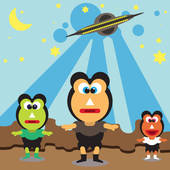 Notes from Janice's Desk
When I was a kid and heard news about scientists receiving radio waves from space, I was envisioned space creatures listening to radios. I couldn't figure out how the sound traveled so far, but didn't dwell on it because I had more important projects, such as collecting discarded soda bottles in ditches. After all, I could wash them out and cash them in for 2 cents each. With fifteen bottles I could go to the movie, buy a soda, popcorn and a candy bar.
I wonder what young kids are thinking when they hear that scientists are looking for life on other planets. Space probes search for evidence of life on other planets are looking for evidences of water. Our bodies are about 65-75% and about 82% of our blood is water. Water is a colorless, tasteless, odorless compound necessary for life.
Water has some amazing properties. It "climbs" up tiny tubes in plants so that it can get to the leaves, it also wiggles its way through the microscopic tunnels in paper towels used to soak up spills. For more information about this spectacular liquid, see WATER.
More Later,
Janice