I am a scientist that still has a child-like love for make-believe. In fact, I am guilty of telling stories to one of my grandchildren about pet spiders that live only at our farm. This started when a black fuzzy spider dropped down from a light fixture directly in front of Kimberly's face. She screamed, but

calmed her and told her not to be afraid because it was a pet spider called Charlie. We talked about spiders and how they could be helpful, such as killing insects. We also talked about how Charlie did not want to be touched and might bite. I cautioned her that some spiders are poisonous, which is another reason not to touch spiders.
When I moved my granddaughter asked if I had brought Charlie to my new house. OOPS! I had to think fast. Thankfully I had earlier seen a large garden spider in a beautiful orb web stretched from the roof to a plant below. I told the concerned child that Charlie didn't want to move. But Charlie said that Elizabeth, one of his relatives might be living at my new home. Kimberly and I looked around outdoors and sure enough there was Elizabeth. We had a new special spider pet. I was in an exceptionally imaginative mood and instructed Kimberly to listen quietly so she could hear Elizabeth talking. We both leaned toward the web and both acknowledged that we could hear a tiny voice coming from the spider.

As always, I reminded the child that even pet spiders were never to be touched and if a strange spider was seen she was to let me know. I recently asked my  Kimberly  if she remembered the spiders that talked. Being a mom of twins as well as a kindergarten teacher, she has vague memories of Charlie and Elizabeth the talking spiders. But she thinks being introduced to Charlie and Elizabeth may be the reason she isn't afraid of spiders. I think she is right. Talking about the spiders brought up other memories of things that only lived at granny's house, such as a "farm fairy" who was never seen, but periodically left behind treats.
So How Do Spiders Communicate?
Spiders have different ways of communicating, but they all have to do with vibration of the threads of their web. Spiders can tell the difference between vibrations made when wind strums the web string from the vibrations  produced by a wiggling insect stuck in the sticky web. Another special vibration male spiders come to call.
Discover Sound Vibrations for Yourself
Make a string telephone using paper cups. With the string between the two cups taught, let one person listen while the other strums the string. They can then take turns speaking into one cup while the other listens. Sound results from the vibrations of the string.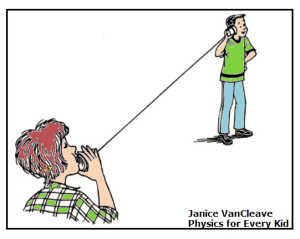 For more information about the making of a string telephone as well as more information about sound, see: