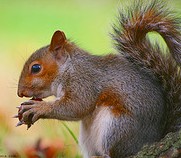 Notes from Janice's Desk
I love reading helpful hints. A recent find suggested putting red Cayenne pepper on plants to keep squirrels away.  Have you ever tasted food with a LARGE amount of Cayenne pepper on it? I have and can testify that it might be the answer to keeping all living organisms at bay.
I buy food and stuff at Sam's, a warehouse store, so my seasonings are in big containers. Side-by-side cinnamon and Cayenne pepper look very different, but I had my mind on writing some science activity. Results: I sprinkled a very generous amount of Cayenne pepper on my oatmeal. One would think that I would have smelled it, but when I am in my "writing mode" the world just goes on without me. Sweet Pea, my Maltese, who is a constant companion was sneezing, but she has allergies.
The first spoonful (generous helping) of my morning breakfast was a real eye opening. Actually it was a mouth opener. It only took a microsecond for the pepper to stimulate the nerves in my mouth resulting in pain. I spit the food out as fast as possible and drank milk. But my mouth continued to burn for a few hours.
For information about taste, see TASTE BUDS.
Janice VanCleave