Transpiration is the loss of water from a plant's surface, generally from the leaves. Transpiration rate is a measure of how much water is lost in a period of time. The transpiration rate of a large tree on a hot, dry day can be several hundred gallons of water. Most of this water exits the leaves as water vapor.
Discover for Yourself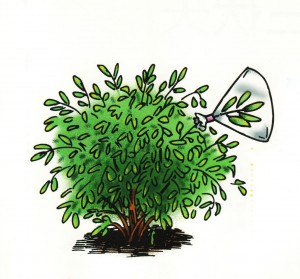 You can discover the transpiration rate a few leaves. Do this by securing a plastic bag over leaves on a stem. After a period of time, at least 24 hours, remove the bag and pour the collected water into a measuring cup. Note that the water leaves the leaves as water vapor (gas) and changes to liquid water inside the bag. The two processes for this change are:
Evaporation: The change from a liquid to a gas.
Condensation: The change from a gas to a liquid.
More to Discover:
Variables are things that can change. When you experiment you should try to compare two variables. You will change one variable and observe any changes in the second variable. YIKES!! This probably is a clear as muddy water. Let me restate this using an example.
For the transpiration experiment, you can change the amount of time you collect the water. Your experimental problem could be:
How does time affect the amount of water a plant transpires?
or
How does time affect transpiration rate?
What are some variables that might affect transpiration rate?

type of plant

wind

leaf size

humidity

air temperature