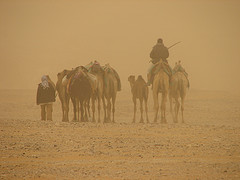 Wind is moving air. Gravity is a force directed perpendicular to Earth's surface. In other words, gravity pulls things straight down (vertically) toward Earth's surface. The mass of an object directly affects the amount of gravity acting on it. The greater the mass the greater is the force of gravity. For wind to move an object not secured to the ground, it must be forceful enough to overcome the downward force of gravity acting on it.
While both a camel and a sand grain are pulled down because of gravity, generally only the sand grain is picked up and moved by wind. This is because a camel has a much larger mass, thus a greater force of gravity than do sand grains. Note: Another name for the force of gravity is weight.


Wind direction can be determined by throwing light weight (small mass) objects into the air and observing the direction they move.  If the objects move toward the north, the wind is moving south-to-north. The direction of a wind is identified as that the direction it is coming from, so a south-to-north wind would be called a "south wind."
Discover  for Yourself

Throw a handful of grass clippings (small leaves will work) into the air and determine the direction they move.

Results

The clippings may fall straight down if there is no wind. Or, they  move away from you. The direction of motion will vary with the presence and direction of the wind.

For more information about wind and other weather related topics, see Janice VanCleave's Weather.