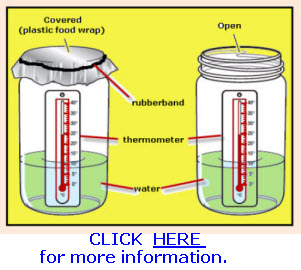 The diagram shows the set up for a science investigation in which the temperature of two containers is to be compared. The two jars are identical, except the one on the left is covered with plastic food wrap.
Readings from the thermometers in each jar will be recorded every ten minutes for a total of 60 minutes. If the jars are set together in a sunny outdoor spot, which jar do you think will be heat up faster and be hotter at the end of the hour?
When you guess about the results of an investigation, it is called a hypothesis.
Do you know how to collect data from an investigation?
Do you know how to construct a line graph with data collected from an experiment such as this one?