When a fly lands on your food, it first uses sensory organs on its feet to "smell" the food.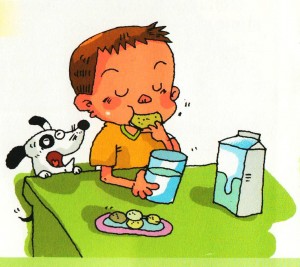 Unlike the boy in the diagram, flies do not have teeth to bite a chuck out of food.
The boy is able to dip his cookie into the glass of milk to make it softer is he wants to. This is another thing that flies cannot do.
So how would a fly eat a hard cookie?
Flies  REGURGITATE (vomit liquid from its stomach) on food that is hard.. Much like the spit in your mouth and the liquid in your stomach, a fly's vomit has chemicals that will digest food.
(Digest means to break the chemicals into smaller parts .)
Some of the digested food dissolves in the fly's vomit. Now the fly has to suck its vomit and the dissolved food back into its body.
Flies have a special mouth part called the proboscis or feeding tube.  A fly's proboscis stays rolled up until it is needed. Then the proboscis unrolls and its spongy tip sops up the liquid food. Then the liquefied food is sucked through the proboscis into the fly's stomach.
Flies don't eat very much of your food. In fact you don't even notice the extremely tiny bit that a fly might remove. If you quickly swish the fly away it might not eat anything.
The problem with flies is not how much of your food they might eat. Instead, it is what they deposit on your food
Flies are attracted to manure and rotting food. This means they may have some of this stuff on their hairy legs and in their stomach.
Flies are small so how much could they have in their stomach? Not much, but bacteria that is dangerous to humans live in manure and rotting food. The tiniest drop of manure or rotten food could have a gazillion bacteria in it.
Flies also leave fecal spots (tiny spots of poop) where they walk, and this is another way that flies can transferred harmful bacteria to people. If a fly with its hair legs has been walking in dog poop, some of it has to stick to these hair and be transferred to its next landing spot– Please! Not my Food.
LET'S PLAY AND FIND OUT ABOUT SCIENCE
If you want to know more about a fly's taste organs and a way that you can model how a fly eats, see