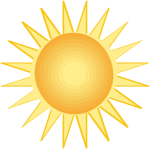 The Sun and sky have such beautiful colors sometimes. It amazes me that they change because of such teeny tiny particles in Earth's atmosphere.
The Sun gets so hot that it emits white light, which is a combination of all the visible colors of light. When this white light passes through Earth's atmosphere some of the colors are scattered in different directions. The sky is blue because blue light is scattered in all directions. The sky is red in the photo because the red parts of the Sun's white light is scattered. The light that is not scattered gives the Sun is color.
You can demonstrate the scattering of light using a flashlight, milk, and water.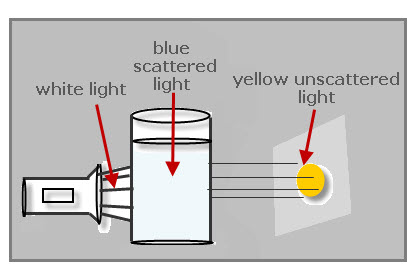 Discover for Yourself
1. Fill a clear glass with water.
2. Set the glass on a surface where you can place a white screen. Use a wall for your screen if the wall is white. White poster board or white paper can make good screens.
3. In a darkened room, shine the light through the water and observe the color of the water as well as the colored spot on the white screen.
4. Add  one drop of milk to the water. Stir.
5. Shine the light through the milky. Again observe the color of the liquid in the glass as well as the color of the light spot on the screen.
6. Repeat steps 4 and 5 two or more times.
What's Happening?
The fat particles in the milk, like particles in the atmosphere, scatter light. The colors scattered depend  on the size and amount of particles.