Temperature is a physical property of how hot or how cold matter is.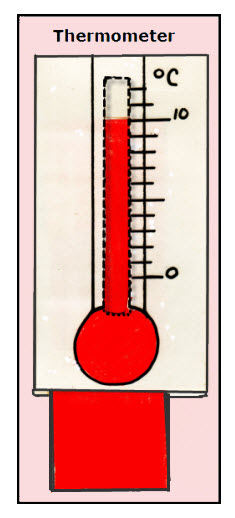 Cold Objects have a low temperature.
Hot Objects have a high temperature.
A thermometer is the instrument used to measure temperature.There are several different thermometer scales, the diagram shows a model of a Celsius thermometer. Note that this scale is marked in one degree increments.
Altitude is the vertical height above a surface.
The Troposphere is the air layer from Earth's surface to an altitude  of about 10 miles (16 km).
Within the Troposphere layer, the air temperature decreases  about 3.50F with each 1000 feet above Earth's surface  (6.50C per 1 km).
---
Earth Science is the study of the Earth, which includes the atmosphere (air layer), lithosphere (solid materials-rocks), and hydrosphere (water-oceans, rivers, lakes,and streams)