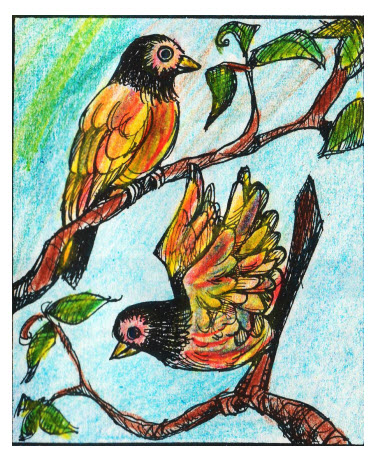 I love to watch the birds flutter and prance around outside my office window.
One of my bird feeders looks like a house and has a platform between the two end feeding containers. Every once in a while one of my cats manages to jump onto the platform and crouch down. She gives herself away with her long bushy tail that always seems to be flitting back and forth. She stays for a few minutes and leaves disappointed that no birds come to feast on the grain in the feeder.
I saw a feeder made from an old plastic shoe–Crocs. The shoe was filled with birdseed and was secured in a tree–uum! Another good way to recycle stuff as well as to encourage beautiful birds to visit.
Another bird feeder idea is to hang pine cones covered with birdseed. Caution: Pine cones have sharp points, so be careful when working with them.

1. Tie a string or ribbon around each pine cone so it can later be hung from a tree branch.
2. Use a spoon to smear  peanut butter on the pine cones. You might wear an oven-mitten on one hand to hold the pine cone as the peanut butter is smeared over its surface.
3. Place one  sticky peanut butter covered pine cone in a paper sack with about 1 cup of birdseed. Vigorously shake the bag so that the pine cone bounces around. The seeds will stick to the peanut butter.
4. Remove the pine cone from the bag and using the string, hang the pine cone on a tree branch. Remember that the birds will need a place to stand while eating the tasty seeds from this feeder. So, hang the feeder where there are places for a bird to stand.
SCIENCE CHALLENGE
Birds like popped and unpopped popcorn. Design a bird feeder that has both popped and unpopped popcorn on it. Remember–no glue–
Clue: Peanut butter makes a good sticky surface.
I'll post your ideas for others to enjoy if you send them to me—BIRD FEEDER IDEAS.