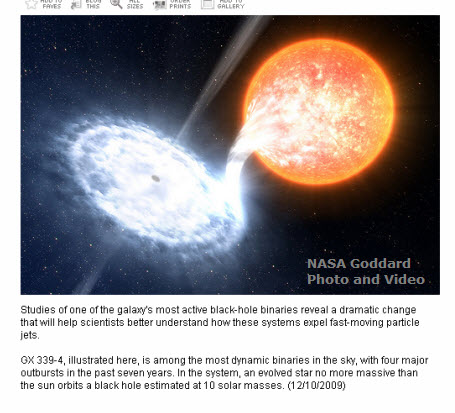 A black hole starts out as a star, which is very large.
Stars give off light because of the nuclear reaction in its core. This reaction produces massive amount of energy resulting in extreme temperatures. The motion of particles increases with an increase in temperature. The kinetic energy of these particles is in an outward direction.
Gravity is a form of potential energy directed toward the center of the star. As long as the KE and PE of the star is in equilibrium (KE = PE) the body's size remains relatively stable.
When the star burns out–nuclear reactions stop–its outward directed KE no longer balances its inward PE.
The PE is now greater than the KE. This results in the collapse of the star. Its not a change in the star's mass, which depends on the number of particles making up the star, that causes an increase in gravity. Instead, it is a change in the star's density.
As the star collapses its particles get closer together and occupy a smaller space. According to Einstein, gravity depends on the density and the pressure of a body. The equation that expresses this is: g = pc2 = 3P (where p is density and P is pressure).
It is important to note that gravity, g, is not the force of gravity, which is represented by Fwt in the equation: Fwt = mg. Instead it is the acceleration of an object due to the force of gravity acting on the object.On Earth, g is equal to 9.8 m/sec2. This value decreases as the distance from Earth's surface increases. Actually the distance is measured from the center of Earth. This means that not only does density affect gravity, g, but the distance from the center of the body to where g is being measured must be considered. As distance decreases, gravity, g, increases.
Escape velocity is a misnomer. It should be called escape speed since velocity has a definite direction and "escape velocity" has no specific direction. Never the less, escape velocity is the speed necessary to break away from the gravitational pull of a body. As gravity, g, for a collapsing star increases, escape velocity for this celestial body also increases. A collapsing star becomes a black hole when its escape velocity exceed the speed of light. This means that light cannot leave the body. An object is only visible if it either illuminates or reflects light to the viewer.