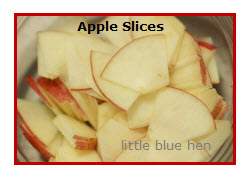 A science fair project experiment must test the accuracy of the hypothesis.
For this example science fair project the example question and hypothesis are:
Question:
What effect does the type of citric fruit covering apple slices have on their browning ?
Hypothesis:

Since all citric fruits contain citric acid,
any kind of citric fruit covering apple slices will prevent the slices from browning.

Experiment
Purpose: To determine if any type of citric fruit will prevent apple slices from browning.
IMPORTANT: You must test each acid the same way. Same kind of apple slices, same amount of acid for each test ETC…. These are things that might affect the results so you need to control them–that is you need to make them all the same.

Things to consider:
(1) Types of citric fruit.
(2) How to extract the juice from the fruit.
(3) How the juice will be applied to the apple slices. How much juice will be applied to each slice?

(4) Type of apple that will be used. Must use only one type.
(5) How thin the slices of apple will be. How many apple slices? I suggest 5 for each test.

(6) What will the apple slices be placed on and how will they be placed. I suggest that the slices be flat with one side facing up. Do not overlap the slices.

(7) How to label the different tests.They all need to be in the same place.

(8) Where the testing materials will be placed.
(9) DATA: How often you will make your observations.
(10) How you will evaluate the results–in other words, how you will decide if an apple has browned. In other words, will any browning no matter how slight be considered a positive test for browning?
(11) Don't forget your control–This is the next step in the teacher tips list.

Send comments and suggestions to ASK JANICE
RETURN TO SCIENCE FAIR PROJECT TEACHING TIPS for the next step