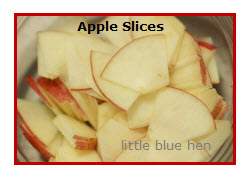 If your science fair project question is:
What effect does the type of citric fruit covering apple slices have on their browning ?
Your hypothesis will be your idea about the answer to your science fair project question. A hypothesis is basically your educated guess. A hypothesis is your prediction about the results of the experiment you will do to find the answer to the project question. Your hypothesis should be based on facts.
HYPOTHESIS EXAMPLE:
Since all citric fruit contains citric acid, then covering apple slices with the juice of any type of citric fruit will prevent the slices from browning.

Your next step in developing your science fair project is to design an experiment which tests the accuracy of your hypothesis.
Send comments and suggestions to ASK JANICE
RETURN TO SCIENCE FAIR PROJECT TEACHING TIPS for the next step