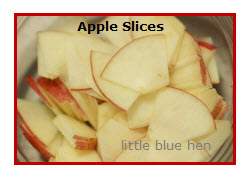 Science Fair Project Question
Observation: Sliced apples turn brown.
Getting Started: If citric acid in lemons prevents sliced apples from browning, would other types of acid do the same thing?
Purpose: To determine if different types of acid prevent sliced apples from turning brown.
Two things are changing:
1. Type of acid used—You control this by using different types of acid.
2. Color of apple slices–This is what you observe. It may or may not change in response to the type of acid used.
Variables: Things in the investigation that change are called variables.
independent variable: This is what you change—the type of acid
dependent variable : This is the part that changes in response to the independent variable–the color of the apple slices.
Question: Your science fair project question must identify the independent and dependent variables.
Following is a form that can help you when developing your science fair project question. Remember that forms or patterns are helpers and every question does not have to written this way.
What effect does (independent variable) have on (dependent variable)_?
Now plug in the variables and you have this question:
What effect does the type of citric fruit covering apple slices have on their browning ?
Send comments and suggestions to ASK JANICE
RETURN TO SCIENCE FAIR PROJECT TEACHING TIPS for the next step