Inside its chrysalis, a caterpillar breaks down into a "chemical mush." This liquid goo is miraculously transformed into a  beautiful butterfly.
When this transformation is complete, a weak, wet adult butterfly breaks out of the chrysalis. In a short time the butterfly dries and is strong enough to fly away.
Play and Have Fun with Science
With a sleeping bag and a couple of scarfs, young kids can take turns modeling the transformation of a caterpillar into a butterfly.
Prepare the Chrysalis:
1. Lay an open sleeping bag on the floor.
2. Place two  scarves inside the top end of the bag. The scarves will represent the colored wings of the butterfly. Use identical scarfs if available.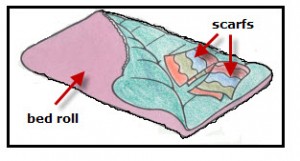 Modeling The Butterfly Break Out

1. Ask a child to pretend to be a caterpillar and crawl inside the bag, feet first.When inside, the child zips the bag closed.  The caterpillar is now enclosed in a chrysalis.
2. The child is to locate the two scarfs and hold one scarf in each hand.
3. The child lays still for a few seconds, then starts wiggling a little.
4. The child slowly unzips the bag, and very slowly crawls out with one scarf in each hand.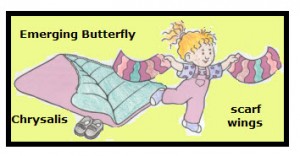 5. At first, the child stands in a stooped position with her arms and the scarves hanging by her side. This represents a butterfly that is wet and needs time to dry.
6. In a short time, the child slowly starts to flap her arms and the scarves. Then she flaps her arms  more quickly as she  pretends to fly away.
With practice, children will be able to perform this story without being coaxed. I had the pleasure to visit a pre-K class and the teacher asked one of her students to show me how a butterfly breaks out of its chrysalis. Yep! The word chrysalis was used. Without saying a word, the child pulled the bedroll to the center of the room and partially opened it. I point out again that this sweet child never said a word. After all, caterpillars and butterflies do not speak our language.
The child climbed into the bag, zipped it and for a couple of seconds was very still. Then the bag started moving just a little. In a short time, the bag was unzipped and very slowly a weak looking child climbed out. She was holding two colored scarfs. This was the first time I saw the scarfs, which had to have been inside the bag. I must admit that I was mesmerized as this 4-year old child slowly acted out a butterfly as it prepares for its first flight.Off the child went as she skipped around the room waving her arms and the scarfs. She stopped, took her bow and proceeded to put the scarfs inside the bed roll and return the roll to is proper place. WOW!!!