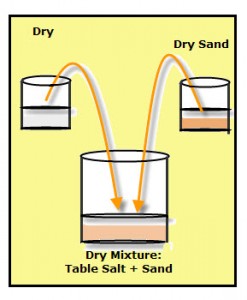 This challenge is to separate and collect the individual parts of a mixture.
Make the Mixture:
Combine equal amounts of table salt and sand. One-fourth cup of each will work.
Teacher Tip: Be sure to use sand and not dirt. Part of the dirt will dissolve. You want only sand, which does not dissolve in water.
Ideas For Presentation
Have a class discussion about how mixture could be separated.  You could make suggestions:
1. Are either of the materials magnetic? If so a magnet could be used to separate the material that is magnetic.
2. Can the materials be separated with strainer? If one material is larger than the other, the smaller material will fall through the holes in the strainer and the larger material would stay in the strainer.
3. Are either of the material soluble in water? If so, when mixed with water the soluble material dissolves in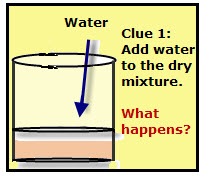 the water. Since water solutions pass through filter paper, the mixture of salt, sand, and water can be filtered. The insoluble material stays in the filter and the solution drains out.
a. How is the solute separated from the solution that passes through the filter paper? If the water evaporates, the dry solute will remain in the container.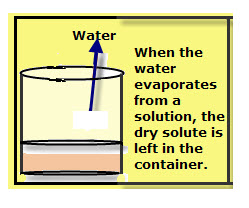 TIP: The container with the solution could be heated to speed up evaporation, or pour the solution a large shallow container. The more surface area, the faster the water will evaporate.