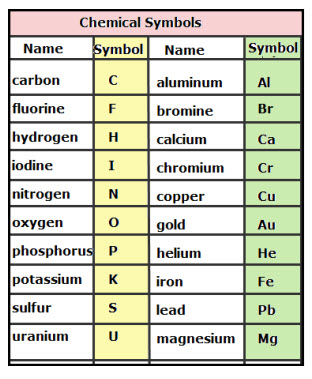 A chemical symbol is an abbreviated way of representing the name of an element.
For example: H for hydrogen; C for carbon; Au for gold
In the early 1800s the British scientist John Dalton (1766-1844) first used picture symbols for elements. These were designed so that other scientists could learn by sharing ideas. Soon after the Swedish chemist J.J. Berzelius (1779-1848) used letters to represent symbols, which are still used today.
Chemical symbols for natural elements have one or two letters.
Symbols with one letter, include F for fluorine, S for sulfur, and  O for oxygen.
Symbols with two letters, start with a capital letter and the second letter is lower case.
For example: Ba for barium, Ca for calcium; Al for aluminum; Ni for nickel
The chart has twenty common elements.