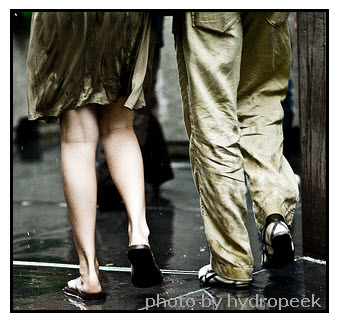 Question: Why do clothes wrinkle if you leave let them cool in the clothes dryer?

Answer:
Polymers are large molecules made of repeated units linked together. When fabrics made of polymers are heated, some of the bonds holding the linked units of the polymers break. This allows the fibers to move around. I in vision the parts making of the fabric as being kind of squishy–a more scientific description would be that the fabric is less rigid.While warm with chemical units that are more movable, cloth is smoother. This is why it is best to remove clothes you wear from a clothes dryer as soon as they are dry.
If you leave the clothes bunched up in the dryer, they wrinkle. This is because as the cloth cools, bonds form again between chemical near each other. The new structure is more likely to result in the fabric eing wrinkled.
When this happens, I fix the problem by adding a washcloth moisten with water to the dryer and let the clothes heat up again.  The moisture from the cloth and the heat from the dryer encourage the bonds between the chemical units to break again. This time I remove the clothes while they are hot hang them. Generally, I can smooth out any left over wrinkles.